Home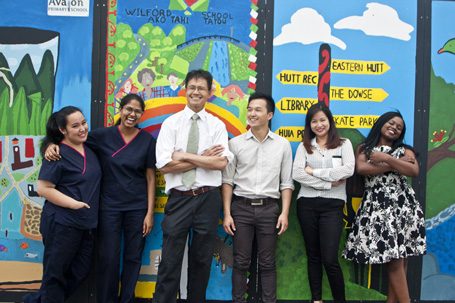 Dentists in Lower Hutt, Wellington
No one likes going to the dentist. It seems to be a widely accepted fact. To date, it's all been the same. Stark white clinics and models with pearly white teeth on the walls. It's unnatural. Something had to change.
At Switch Dental in Lower Hutt, we focused on the experience. A more welcoming place, something that makes you smile. It's why we're in the business after all.
We know how it is, you shouldn't have to change your lifestyle for dental sake. More teaching and less telling. The way it should be.
We're all different; it's time it felt that way. We're pushing the boundaries or simply resetting the balance. Either way, it's a bit different. Find out more about our dental treatments.
How It All Started
Switch Dental began from humble beginnings when the original owner of the practice, Dr. Ngan Kee, provided dental care from his house in Taita over 60 yrs ago.
Douglas Ngan Kee of Whanganui became the first Chinese dental graduate in 1950.
A husband and wife team, Ruby Kee his wife, was the manager and between the two of them became well known throughout the Hutt community.
He was then joined by Dr. Ken Young, a fresh graduate dentist from Otago also who became Principal Dentist from the 1980s and renamed the clinic Ken Young Dental & Associates.
As the clinic grew, eventually they ended up at Level 1, 44 Queens Drive where he successfully operated the busy clinic for more than 30 years.
In 2014, Dr Alex Lee took the reigns and the clinic was renamed Switch Dental.
In 2017, My Family Dentist, previously Nick Howes's Associate, merged with Switch Dental. The two clinics have been combined into the current Switch Dental premises.
To this day, together Dr Alex Lee, Dr. Ken Young and Dr. Ngan Kee have served the Lower Hutt community for more than three generations of patients over 60 years.
The clinic has since been renovated and upgraded and they have continued to operate a boutique clinic where the emphasis was on treating people like people and doing the right thing.